Today Jennifer of Blushing Blooms Floral Design is visiting the blog to share some advice on when to select a florist, what to expect when you do and how to stretch your budget for your wedding day flowers.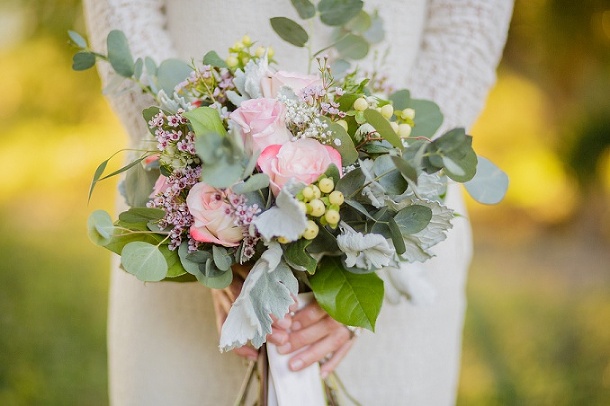 Here's what Jennifer had to say:
When to contact your florist
Contact your florist at least 6-8 months prior to the event, but I encourage you to reach out as soon as you are ready to ensure availability. This is especially true if you are in the prime spring or fall months (May/June and September/October) as they book fast. If you know who you want, but maybe not what you want, just secure the day with a deposit and work the details out after you make a few other decisions, like your linens, or bridesmaids dress. They tend to dictate a lot in regards to the flowers.
What to expect after contacting me
First, a questionnaire. This will help give me a better understanding of your style and aesthetic, along with what exactly you need.
Then, I'll draft a quote. This helps us see if we will be a good fit or not.
Next, we schedule a face-to-face meeting to better discuss the details and take care of the retainer in order to reserve the date.
Lastly, we will schedule a final meeting approximately 4-6 weeks prior to the big day to finalize everything and take care of the last payment.
Tips to stretch your budget
Go with seasonal flowers. Trying to get a peony in September is difficult and can really impact the price. Go with what is naturally in bloom that time of year like dahlias, which are also a beautiful option.
Re-purpose wherever you can. Move the aisle arrangements to the tables as part of a centerpiece. Display the bridesmaids bouquets on gift or dessert tables as added decor.
Prioritize your budget. Invest in the items that will be looked at closely, like your centerpieces, as opposed to the alter flowers which will be seen from afar. Also invest in things being photographed frequently, like your bouquet. The bridesmaids bouquets can be scaled back and maybe not include as many premium blooms.
Alternate centerpiece options. If you love the look of an elevated arrangement, but can't afford them on every table, simply use them on half, and opt for a more budget friendly (and easily consigned) option like candles or lanterns.
Thank you Jennifer for sharing these wonderful tips!
I can't say enough about how talented, and wonderful Jennifer is to work with. Please visit her site to see more of her gorgeous work and learn more about her services.
If you're looking for more wedding day tips and ideas, be sure to visit our bridal resource page for lots of great information!